We Help You Recover Faster

Dedicated to providing exceptional care and personalized treatment to get you feeling better, faster.
We Maximize the Function and Improve the Quality of Life for our Patients
The Rehabilitation Clinic at Bangkok Hospital Chiang Rai provides comprehensive rehabilitation programs for people of all ages, addressing varied rehabilitation needs following injury, surgery or for chronic conditions. Our highly qualified and experienced physicians and physical therapists provide treatment that is personalized to address your unique needs and goals. Our physical therapists can help restore movement, improve function and help you get back to doing what you enjoy. Our mission is to provide pain relief and improve the quality of life for our patients. We incorporate functional exercise, manual therapy and rehabilitation therapies for musculoskeletal, post-op and sports injuries using the latest cutting-edge treatment methods and modern medical equipment.
Cardiopulmonary Rehabilitation
The Cardiopulmonary Rehabilitation program at Bangkok Hospital Chiang Rai is designed to assist individuals who have suffered a major cardiac event, or have been diagnosed with a lung disease or disorder, in regaining and maintaining their maximum quality of life through medically supervised physical conditioning in a supporting environment.
Cardiac Rehabilitation
Cardiac rehabilitation is for pre- and post-cardiac surgery and heart disease patients with restrictions and contraindications. In the first phase of treatment, the physical therapist will start a light individualized exercise program with the patient. This may include, but is not limited to, simple activities such as getting out of bed, marching in place, and walking in the hospital halls. The second phase of therapy consists of aerobic exercises and may also include light strengthening and stretching. Programs and timeframes can vary by individual patient.
The physical therapist will monitor the patient's heart rate, blood pressure, and exertion level with the exercise. With each treatment, the goal is to increase exercise tolerance. Education also plays a role in cardiac rehabilitation. The therapist will also educate the patient on ways to reduce cardiac risk factors and disease processes.
Pulmonary Rehabilitation
Pulmonary rehabilitation is a program that includes exercise training, health education, and breathing techniques for individuals with chronic lung conditions such as chronic obstructive pulmonary disease (COPD), asthma, pulmonary artery hypertension, pulmonary fibrosis, cystic fibrosis or other restrictive lung diseases. Our pulmonary rehabilitation program is designed to help you breathe easier and improve your quality of life by teaching techniques that can help you control your symptoms and disease. It can also improve daily life for people who have scoliosis or other health problems that limit lung function.
Why Choose Bangkok Hospital Chiang Rai for Cardiopulmonary Rehabilitation
Our multidisciplinary team of cardiologists and pulmonary specialists, nurses, dietitians and physical therapists work together to provide comprehensive care based on your unique health needs and condition using the latest techniques and technology.
Our cardiac and pulmonary care experts provide education to help you learn about your condition and how to manage your risk factors to promote better health.
We create a tailor-made rehabilitation plan based on your specific needs and limitations to help you get stronger and feel confident throughout your recovery and beyond.
With the help of our comprehensive team of health experts, patients learn exercises and healthy behaviors that help increase their overall quality of life.
Geriatric Rehabilitation
The Rehabilitation Clinic at Bangkok Hospital Chiang Rai is a modern, state-of-the-art facility that specializes in providing comprehensive physical therapy services for senior adults. Our geriatric physical therapy program covers a wide range of conditions tailored specifically to people as they age.
Conditions treated include arthritis, loss of balance, dementia, joint replacement, hip replacement, muscle weakness, osteoporosis, and more. Our geriatric rehabilitation program helps to restore mobility, increase fitness levels, reduce pain and improve the quality of life for each patient.
Geriatric rehabilitation is a proven method for senior adults from every fitness level improve their balance, strength and mobility. Physical therapy can also help older adults remain strong, independent, active and avoid falls which can lead to serious injury requiring hospitalization.
Patient, family and care-giver education is important to the success and effectiveness of our geriatric physical therapy program. Patients are taught ways of performing daily tasks safely. Our physical therapist also teaches patients how to use assistive devices and how to protect themselves from further injury. Family members and care-givers receive advice and education on how to provide support for the patient during and after rehabilitation.
Why Choose Bangkok Hospital Chiang Rai for Geriatric Rehabilitation
The Rehabilitation Clinic at Bangkok Hospital Chiang Rai specializes in addressing the unique needs of people experiencing age-related conditions and providing patient-centered and coordinated care by a team of multidisciplinary experts.
Our entire team works together to ensure patients receive high-quality care by providing education and support to both the patient and caregivers.
Our highly trained and experienced clinical team understands the challenges facing seniors and design an individualize care plan to restore motion and function.
Whether you need rehabilitation for pain, an injury or surgical procedure, or want to improve your motion and function, we use the latest evidence-based treatments and therapies to help you achieve your goals.
Musculoskeletal Rehabilitation
When an ailment, injury, or movement disorder impacts the ability to move your muscles and joints, musculoskeletal rehabilitation therapy may provide the help you need. Our knowledgeable, caring physical therapists can teach you how to prevent further injuries and manage your condition to lessen pain and restore your strength, mobility, endurance, balance and independence as much as possible.
We are dedicated to providing the best possible care and outcome for each patient. Our musculoskeletal rehabilitation physical therapy treatments include exercise programs for weight control, joint mobilizations, manual therapy, strength and mobility training, massage therapy, dry needling, high power laser, shock wave therapy and modalities to maximize function and promote healing. If you have a condition that affects your musculoskeletal system, physical therapy can help you build strength and flexibility, helping with the symptoms of chronic pain.
Why Choose Bangkok Hospital Chiang Rai for Musculoskeletal Rehabilitation
Our highly experienced specialists and physical therapists are trained in the assessment and treatment of all types of musculoskeletal conditions to help you regain optimal movement and return to the activities you enjoy.
We provide one-on-one personalized musculoskeletal physical therapy and treatment care plans to meet the functional and wellness goals of each patient.
We provide you with holistic, comprehensive and compassionate care while using the latest techniques and innovative approaches to musculoskeletal rehabilitation.
Our musculoskeletal rehabilitation program applies the latest research to provide a full range of care for patients with musculoskeletal conditions.
Neurological Rehabilitation
Our Neurological Rehabilitation Program is designed to help people who have suffered a traumatic brain injury, are experiencing a serious neurological disorder or have lost function after having a stroke. We use a multidisciplinary team approach to help neurological patients regain function, restore mobility and improve their quality of life.
Brain Injury
Our brain injury physical therapy program focuses on restoring mobility and physical function to patients with traumatic brain injuries. Physical therapy works to improve motor function, minimize physical disabilities and restore normal movement patters to maximize the patient's independence, safety and ability to return to their prior level of function. We employ a multidisciplinary team approach for people who have suffered a traumatic brain injury because of the wide number of impairments and complications that can arise from a brain injury.
Neurological Rehabilitation
Neurological rehabilitation can help people become active who are experiencing a serious neurological disorder such as dementia, Parkinson's disease, multiple sclerosis or Guillain-Barre syndrome. Our team of physical and occupational therapists can provide therapy for balance, gait, posture, coordination and other impairments to help patients regain functions and live independently again.
Stroke Program
Our stroke rehabilitation program helps you relearn skills lost after a stroke damages part of your brain. The goals of rehabilitation are to help survivors regain as much independence, quality of life and long-term recovery as possible. Treatment begins while you are still in the hospital and continues after you return home. For some stroke survivors, rehabilitation will be an ongoing process to maintain and refine skills and could involve working with specialists for months or years after the stroke.
Why Choose Bangkok Hospital Chiang Rai for Neurological Rehabilitation
Our hospital has highly-trained and experienced coordinated specialized clinical care teams for patients suffering from stroke, brain injury or spinal cord injury.
We work with you to set goals and to create a comprehensive care plan designed to increase your functional independence as much as possible.
We are dedicated to giving patients access to innovative, cutting-edge therapies and modern medical equipment to help patients overcome disabling neurological injuries.
We offer multiple levels of treatment to accommodate the various stages of recovery. Our neuro-rehabilitation team will customize a plan to suit your unique condition.
Occupational Therapy
Our occupational therapists help both adults and children who are facing challenges due to physical injury, illness, disease or the aging process, achieve independence and improve functional recovery in all aspects of their lives. People who are experiencing physical and cognitive challenges can benefit from occupational therapy. We can help you rebuild such functions such as walking, eating or dressing yourself, or help to restore other movements that may be limiting you.
Bangkok Hospital Chiang Rai Rehabilitation Clinic offers occupational therapy services including activities of daily living retraining, cognitive training, ergonomics, job retraining, splint fabrication and hand therapy. No matter what your condition, our highly trained therapists aim to improve your mobility and range of motion through effective treatments designed to get you back to the everyday activities you enjoy.
Why Choose Bangkok Hospital Chiang Rai for Occupational Therapy
We provide one-on-one personalized physical therapy and treatment care plans to meet the functional and wellness goals of each patient.
We use a team-focused approach to help you regain function through comprehensive, quality care and patient education. Our staff has many years of experience in all areas, including physical therapy, occupational therapy and more.
We offer flexible scheduling and convenient hours to fit your busy lifestyle.
We provide the latest techniques in a modern, spacious and well-equipped facility. Treatment is provided in private rooms that allow patients privacy and comfort while receiving physical therapy.
Orthopedic Rehabilitation
Our orthopedic physical therapy combines the expertise of orthopedic surgeons and physical therapists in the evaluation and treatment of pre- and post-surgical rehabilitation and all musculoskeletal injuries involving the muscles, bones, ligaments, fascia, and tendons. Our highly trained and skilled professionals provide patients with the most advanced orthopedic and physical therapy treatments and minimally invasive procedures designed to get you moving and healthy.
If you are experiencing difficulty moving, dislocations, fractures, muscle or joint pain, muscle spasms, soreness, sprains and strains or swelling, schedule a visit with one of our highly-trained and experienced physicians. We offer convenient extended hours to fit your busy schedule.
Why Choose Bangkok Hospital Chiang Rai for Orthopedic Rehabilitation
Patients can receive expert, compassionate and coordinated care for both surgical and non-surgical conditions in one place by doctors, surgeons and therapists who work together to help you return to the activities that you love.
Our highly trained and experienced team specializes in the rehabilitation of orthopedic patients and are dedicated to advanced and ongoing education in rehabilitation and physical therapy.
Bangkok Hospital Chiang Rai Rehabilitation Clinic has a fully equipped and comfortable, private treatment rooms.
Our integrated approach to care produces outstanding results to help you return to maximum function as quickly and safely as possible.
Pediatric Rehabilitation
The Rehabilitation Clinic at Bangkok Hospital Chiang Rai offers specialized rehabilitation services for infants, children and adolescents for physical, speech and occupational therapy. Our pediatric physical therapy program promotes greater confidence and independence and seeks to lessen pain and improve range of motion, strength, alignment, balance, coordination, motor function and endurance. Our entire health care team works in collaboration with children and their families in every aspect of treatment to promote the child's independence and quality of life.
We treat a wide variety of pediatric conditions ranging from congenital, developmental, neurological disorders, minor sprains and strains, to post-surgical orthopedic cases.
Why Choose Bangkok Hospital Chiang Rai for Pediatric Rehabilitation
We offer personal attention to your concerns and listen to what you have to say. We involve the entire family to achieve the best possible outcome for your child.
Every plan of care we create is tailored to each individual child's needs and designed to reap the biggest benefits to help your child recover quickly.
We provide therapy services in a stimulating environment which encourages children to have fun while working on activities to further their development and functional abilities.
Women's Health Rehabilitation
The Rehabilitation Clinic at Bangkok Hospital Chiang Rai has the expertise to address health conditions that uniquely affect women throughout all stages of life. Our program features physical therapy to help relieve pain, minimize symptoms and improve function and quality of life. We create personalized, comprehensive treatment plans for each patient with a focus on the special health needs of women.
Our therapists have extensive training and experience in addressing a wide range of women's health conditions. Some of the conditions treated by our women's health specialists include:
| | |
| --- | --- |
| | |
| | Post-Mastectomy Management and Lymphedema Treatment |
| | |
| Pelvic Pain and Dysfunction | |
Why Choose Bangkok Hospital Chiang Rai for Women's Health Rehabilitation
After a comprehensive evaluation by a trained therapist, an individualized treatment plan will be developed to meet your unique needs and achieve your health goals.
Our physical therapists are specifically trained in managing women's health issues, especially bladder control and pelvic floor conditions.
Our multidisciplinary team of oncologists, urologists, gynecologists and physical therapists work together to help you achieve your highest physical potential.
Our therapists are compassionate and respectful to your needs. We provide a comfortable environment to give you the care and attention you deserve.
Our Expert Doctors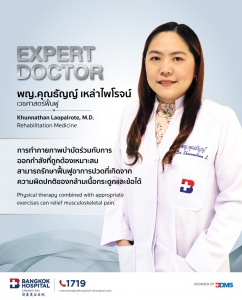 Dr. Khunnathan Laopairote
Specialty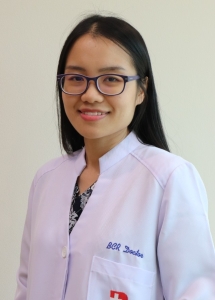 Dr. Pattrawan Pholherm
Specialty
Family Medicine
Rehabilitation Medicine
Promotions & Packages